Home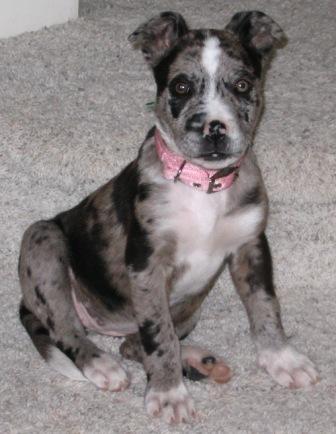 Hi. I'm Charlie, and this is my site. This is how I let all my friends know how I'm doing.
I am a female Catahoula dog. My official name is Charlotte, but my nickname is Charlie. That's Dad's cruel joke to give his furry daughter a boy's nickname. Nobody calls me Charlotte. I'm just Charlie.
In this picture I'm 8 weeks old and 9 pounds. This was taken the day after I was adopted, about March 1st, 2011. The Animal Shelter said I was 8 weeks old, so we've decided to make January 1st my birthday. I'm bigger now, but still just as silly. Mom says I'll probably grow to about 50 pounds in a few more months. (It's now a year and a half later, and Mom was right - I weigh 50 pounds.)
Dad adopted me because he says I'm cute. Mom says I'm so ugly that I'm cute. I'm not really sure if that's the same thing.
I am a Catahoula; a Louisiana Leopard Dog. We are known for our multi-colored coats and unique patterns. Catahoulas are known for being smart, loyal, high energy dogs. We're hunters and herders. We don't have a video yet of me herding the grandkids (my cousins), but I've already done that. Hopefully we'll get a video of that soon.
Dad wanted another Catahoula because he said he's had such good luck with the breed in the past. Sam (Samantha) was my immediate predecessor, but she passed on three years ago. She was a great Catahoula according to Dad. Eddie is my big brother. He's 14 and still going strong, and he's definitely a purebred Catahoula. It's a little hard to know these things, because all three of us came from the pound. Mom and Dad rescued us. As you look at our photos you'll see that we all look a little different, but that's characteristic of the Catahoula breed.