Mom and Dad won't take me into other stores, but they'll take me in here.
One of the reasons I like it is because of all of the doggie smells. Lots of other people must bring their dogs in here too. I haven't met any of them yet, but this is where Mom says I'll be coming for obedience class soon, and then I'll get to meet some of them.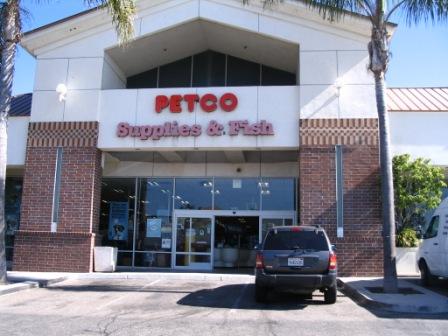 And Mom says I really need an obedience class.
She thinks I act crazy.
But another reason I like to come to Petco is for the doggie treat bar. Mom says Dad overindulges us with the treats. Dad says he needs them as rewards for when I do something right. Eddie gets lots of treats. I don't. Does that tell you something?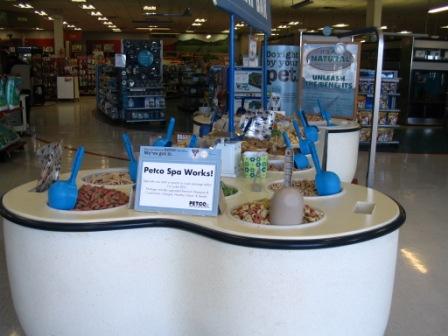 Of course, the other reason I like coming here is that I make new friends. Here's one of the Petco staff saying hello to me. Like a lot of other people, he wants to know what kind of dog I am. I guess there aren't that many Catahoulas in Ventura, California.
Like I said once before, you really have to be quick with a camera to keep up with me. See all those boxes right behind me?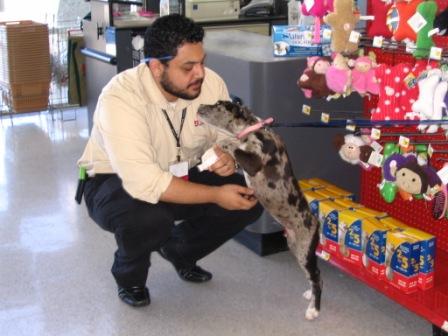 Right after this picture was taken, I knocked down all the boxes because I was so excited to be in the store and meet a new friend, Jaime. But they weren't fast enough with the camera to catch the action.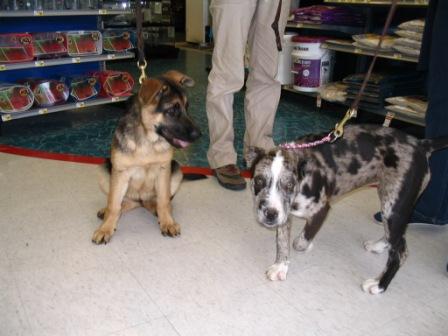 After obedience class one day, I met a new friend, Evvie. She is a German Shepard, and a puppy like me.
Starting In July 2011 I went back in for a second round of training classes, after a break of almost two months. I didn't think I needed any more training, but Mom and Dad both say I do.