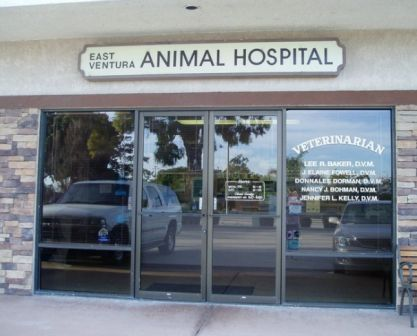 My veterinarian is the East Ventura Animal Hospital. Mom says she's been taking all the furry kids here for almost 30 years. So, when I came along, it was time for me to go there too. And I got my first chance just a week after I was adopted. When I first saw the office, I said, What's this? A new place for me to go? I'm having lots of fun since I was adopted, but this is a new place. I wonder what happens here?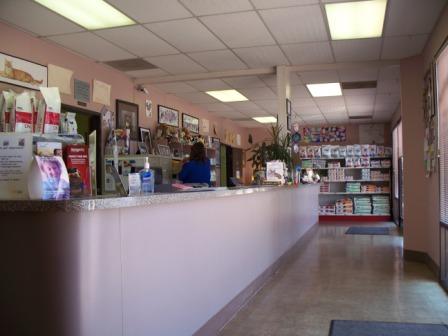 So, this is the lobby. So far, looks friendly.
And there are lots of other animal smells in here. My first trip established my reputation here. Only nine weeks old and already a sensation. I was sitting quietly in Mom's lap waiting to be seen by the Vet, and a VERY LARGE German Shepard walked in. He was at least a hundred pounds (about ten times my size). But, I didn't let that scare me. I started barking at him in my little girl puppy voice and carrying on, jumping in Mom's lap. Everybody in the office started laughing, so I barked more; I could see they liked it. I caused enough of a commotion that the Doctors came out to the front office to see what was going on. They laughed too. They also declared me CUTE. So there.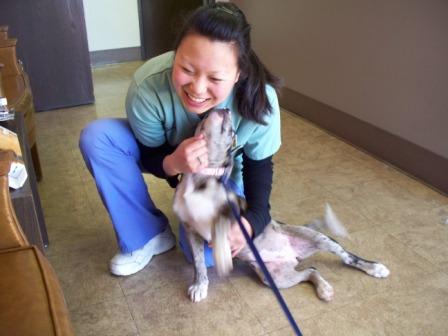 Now I'm making friends with the front office staff. I can tell they like me too.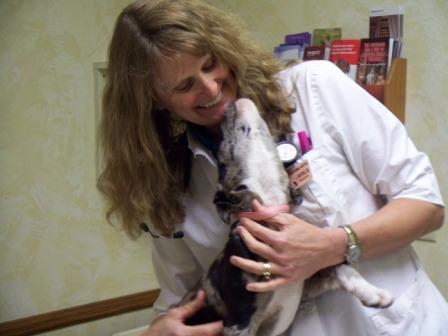 Finally, I get to meet the Doctor. You can tell from this photo that we get along great. I wasn't sure what to expect next., cause I had never seen a Doctor before. I was poked and prodded, they listened to my heart, weighed me (9 pounds officially at eight weeks old), and took samples. The came the unpleasant surprise - THE NEEDLE. I got a shot, and they told me I have to come back for more.
On May 12th I went back to the Vet's office and got my final shots. I'm sure glad that's over.
Well, it's now June 23rd and I'm back to the Vet's office for my first major appointment. Read about it my blog. Turns out I got spayed today. And, I had to spend the night at the Vet's office.
So let's get this straight. Dad betrayed me by leaving me here all alone and letting them perform a nasty surgery on me. OUCH!!!! THEN, instead of getting to go home and the comfort of my own home, I had to spend the night.
OK, a couple of weeks later I went back to have the stiches removed. No big deal, Didn't even hurt. I'm tough.