My 2014 blog
December 24 – 28, 2014 – WOW. Dad spent five whole days in a row at home. He took off Wednesday so he could make the Christmas Eve dinner. But, he had to go to work for a few hours in the morning, and he took me with him. That was fun. I haven't been to the office in awhile. This year we had a Honeybaked ham for dinner. And I got some of it, and so did Kylie. And there were lots of people for dinner Wednesday night, so I had lots of fun playing with all of them.
December 15 – 19, 2014 – NOW I see why Dad felt guilty and took us for a long ride last Saturday. It's cause he's gone all week to Hawaii. He said he's working, but I know that's a vacation place. Dad got home at 7:30 PM Friday night, and I was real excited to see him. He brought Mom a present, chocolate covered macadamia nuts, but I didn't get anything.
December 13-14, 2014 – Just another weekend at home, but dad took Kylie and I for a ride clear into Ventura today. He's never taken both of us for such a long ride before. Normally we just get to go to Starbucks Sunday morning.
December 6 – 7, 2014 – Almost the end of the year. Dad actually had to go into the office on the weekend to work for awhile, and I didn't get to go with him. He said he needed to concentrate and couldn't do it with me there.
November 27 – 30 – This is Thanksgiving weekend, so Dad was home for four whole days. And we had lots of company. And we had lots of turkey. I really like this holiday, both cause Dad is home for a long time, and cause I get lots of food. But, no more school for me on Sunday. I was getting to like it. Mom says she's going to sign me up for the next class, cause she says she can see an improvement in my behavior.
November 23, 2014 – Sunday, and I GRADUATED from the Dog Whisperer's "Socialization 1" course. I proved Mom wrong. She said I wouldn't graduate, but I did. Mom was there so she even took a picture of me with Dad and Jennifer, the instructor.
The Mom took a picture of the other instructors that help out with the class, and look at me – I photobombed the picture without even knowing it.
November 16, 2014 - Dad took me to class by himself today, cause Mom had to do something else. This is week five of the six week course. Dad isn't sure I'm going to "graduate." He says I'll probably get a certificate of "participation" instead. And Jennifer, the trainer, put Dad on the spot by forcing him to repeat the five keys to understanding dog psychology and being able to "teach" a dog; (1) calm, assertive energy, (2) exercise, discipline and affection, (3) rules, boundaries and limitations, (4) master the walk, (5) read the dog's body language. Dad got a prize for knowing all five of them, a doggie "treat canister." Just because he can remember them doesn't mean he knows how to do them all. I showed them all, cause they brough a "crazy" dog down by the class that was sending our lots of negative enregy. Most of the dogs in the class responded by acting up, but I acted up more than any of them. Dad says that's not a good thing, and that's why I'm in this class. I act great around people, and am really friendly with most other dogs once I get to know them, but I always assume the other dog is not friendly, so I act aggressive.
November 9, 2014 - Mom and Dad both took me to dog training today. Dad had to tell the trainer what we did special this last week based on last Sunday's training session. Mom and Dad FORCED ME to face THE BROOM. I have always barked at the broom, and did agin when they showed it to me. But Mom kept me on my leash and forced me to face the broom, and Dad shoved it in my face to show me it wasn't scary. Then Mom put peanut butter on it so I could lick it off. It's hard to do that with something you're afraid of, but I sure do like my peanut butter, so I licked it off the broom, and discoverd the broom isn't so bad after all. Now, the vacuum cleaner? That's a different issue.

November 2, 2014 - Week three of dog training. This now defines my entire life, cause Mom makes me do things during the week to reinforce what I learned in class last week. Dad says the big problem is that I show aggressiveness to other dogs, at ;least until I can get face to face with them and sniff them. So, Dad is supposed to jerk my leash to the side when I show aggression, and that causes me to focus on Dad and forget the other dog. Guess what? it works.

October 26, 2014 - I got to go back to Cesar Millan's dog training facility in Santa Clarita again today. This is week two of a six week course. Only Mom came with me today to the course, cause Dad's out of town. I like it cause I get to go for a long ride in the Jeep; it's about an hour drive to get to the "Canine Resort." I saw lots of the same dogs again. As Dad said last week - "Wow, and I thought Charlie had problems, there are some dogs here with REAL problems." So, I was good again today, but it's real hard to pay attention for about an hour and a half - you've got to realize that in doggie years, that's a full eight hour workday. They split the class into two sections cause it was too big, so now I go at 1:00 PM instead of at 11:00 AM, and there's now only seven dogs in the class.
October 19, 2014 - I can't believe this. Mom and Dad pulled a big surprise on me today. I got to go for my normal walk with Dad, and my normal Sunday ride to Starbucks, and then I thought I was just getting an extra ride with both Mom and Dad. But it was more than a ride. I got to go to training at Cesar Milan's dog psychology "Canine Country Club." There were 14 dogs in the class, and the instructor said i was the best behaved dog of the day. Mom and Dad both wondered how that happened. I mean, they were right there with me. And there was this really big turtle (desert tortoise) walking around inside the training area. I barked at him just to show him who's boss. When we got home, I was real tired, so I took a two hour nap. Guess what? So did Dad. He sat down "just for a minute" and fell asleep.
October 17, 2014 - Dad got home real late tonight cause he was at a board meeting. He didn't get home until midnight. But when I heard his car in the driveway I woke up and greated him at the door. He told me that he was early getting to the meeting, so he stopped for a few minutes along the way to see an old friend of his that he hadn't seen for thirteen years. Dad has known him for more than 50 years.
September 7 - October 11, 2014 - Dad's been so busy that he wasn't helping me keep my blog up to date.
September 6, 2014 - Another big surprise. I just found out that I have a brother. I didn't even know about him. There's a picture of him in the house, just that nobody explained to me who he was. He's been living back east for the last few years, since even before i was born. He just came out here for a new job, and is staying at our house for a few weeks between jobs. So, my brother is human. I'm adopted, and I'm a dog. But we're still adopted brother and sister. Kylie's adopted too, but she's my age and size.
August 30 - September 1, 2014 - Wow - another holiday. Labor Day. Dad's home all weekend, and cause it's a long weekend, he has more time, so he took me for a longer walk than normal. Dad was gone part of the week, coming home Thursday night late. I was already asleep, but I woke up so I could welcome him home. Mom was gone part of Saturday, so Dad gave Kylie and me treats at lunch time. Mom doesn't let him do that when she's around. Dad spoils us.
August 23-24, 2014 - Dad stayed home all weekend and worked at home. So I laid down under his desk, like I usually do, just so I could be close to him. I got to spend time with him Friday afternoon too. Mom took me to the office and I spent a couple of hours with Dad, then he brought me home.
August 16-17, 2014 - OK, so Dad is home and I got my long weekend walk, but Dad didn't take me for a ride Sunday. Mom went out early to get her own Chai Tea at Starbucks, so Dad didn't have a reason tot take me for a ride. It's Mom's fault. And she didn't take me for a ride.
August 9-10, 2014 - This was supposed to be another quiet weekend, and what Happens? Another stupid hot air balloon is flying around down in the valley. I had to bark at it to scare it away.
August 2-3, 2014 - This weekend is a lot more quiet than last weekend. I did see some other dogs on my walk Saturday morning, so I barked at then to scare them away.
July 26-27, 2014 - This is a nice, quiet weekend back home. Well, at least I though it was. It turns out this is the weekend of the Santa Paula hot air balloon festival. I saw them Sunday morning when I was on my walk with Dad, so I started barking at them to scare them away. They didn't leave, so I kept barking at them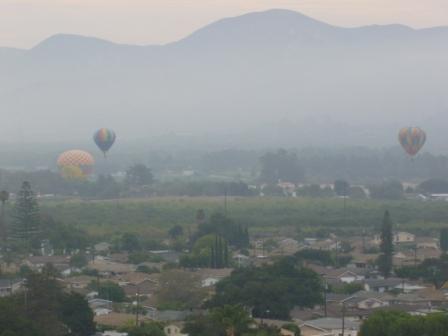 , for about twenty minutes. I finally got tired and stopped barking, even though the balloons were still there. They moved some, but I could still see them. Dad called me silly for barking at them. I don't understand why they weren't scared of me. Every time I bark at another dog, they get scared and run away, at least it seems so. They leave really fast when I'm in the Jeep with Dad. I barely have time to bark at them and they're gone. Maybe cause the Jeep is moving?
July 25, 2014 - So Kylie and I got into a tug-of-war contest using one of the blankets we share. I always have to win, cause I am the alpha female dog. Kylie doesn't care, she just wants to play. But she wasn't letting me win, so I had to growl at her to let her know that this was MY blankie, not hers. She didn't take the hint, so I growled more. Have you ever tried to growl when you've got a mouth full of blanket? It's not easy. Mom and Dad were right there watching us play, but since Kylie's just as strong as me, I couldn't win the contest, and I was getting Pi#%@d. Dad finally put a stop to it when he decided I was getting too loud. Dad took the blanket away from us, so I guess he won the tug-of-war contest.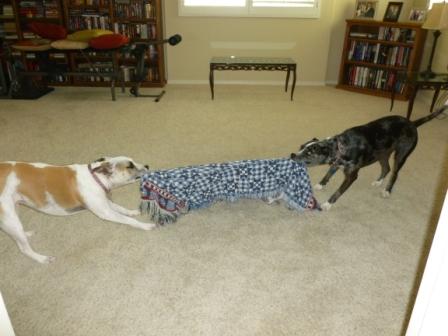 July 19-20, 2014 - This is a nice, quiet weekend back home.
July 15, 2014 - Now this is a real bummer. I had to go to the Vet today, a follow up to my visit of a couple of weeks ago. And they knocked me out so they could operate on me. Turns out I had a foxtail stuck in my ear. And, I had a sinus infection. I didn't like the "sleep" thing, but I like the people at the Vet's office. But, I feel better now.
July 12-13, 2014 - Dad is working at home this weekend, so it's nice and quiet. Mom was gone all day Saturday, and dad went out in the back yard after lunch to smoke a cigar. He does that once in awhile. I don't like the cigar, but I like laying outside in the sun while dad is outside. Kylie was with us too.
July 6, 2014 - Kylie and I got a ride to Starbucks today so Dad could get a Chai tea for Mom. There's a new Starbucks in town, and it has a drive through, so Kylie now gets to go on the Sunday monring drive with me and Dad. I'm normally a front seat dog, but Dad makes me get in the back seat and lets Kylie take the front seat when we both ride together in the Jeep. Dad says that's cause I jump around so much and bark at other dogs. It's OK.
July 4, 2014 - It was so good to get home and see Mom and Kylie again. We went outside and played hard; it felt good to run around since I didn't get to run every day on my trip with Dad. But, I sure loved that run at the beach in Brookings. Chasing seagulls was fun. And I scared them all away.
June 26 - July 4, 2014 - Vacation time. Left home Thursday morning with Dad, and we took a loooong trip to Oregon, Washington, Idaho, Utah, Arizona, and Nevada, before coming home to California. So many new states. Visit my travel page to see the story. Too much to tell and too many pictures to fit it all on my blog.
June15, 2014 - Sunday, Father's day, and Dad's home. So I jumped up on the bed this morning and laid down right beside Dad, leaning against him. I was trying to show him how much I love him. I think he already knows that. But my job is to be his friend and to protect him. Dad took me for a ride again this morning to go get the Sunday newspaper, and I saw some other dogs out on the sidewalk, and I had to protect Dad from them. So, I barked at them, and they went away. I did my job for Dad. He should appreciate it, but, instead, he yelled at me to settle down. I really don't understand humans sometimes.
June 14, 2014 - Saturday, and Dad took me for a ride in the new Jeep for the first time. He wouldn't take me before this because the seat coves he ordered hadn't arrived yet, and H didn't want me on the seats in the new car. Dad worked at home in his office today. I snuggled up by his feet under the desk, just so I could be close to him.
June 8, 2014 - Sunday - Dad took me for a ride today to get the newspaper, but he drove the Mustang. I don't get it. he bought a new Jeep for me, but won't let me ride in it.
June 7, 2014 - Saturday, and Dad played frisbee with me for the first time in a ling time. I know he's been working too hard, so maybe this means he's going to have more time to play with me.
June 1, 2014 - Sunday - OK, Dad has new Jeep. He says he bought it for me, but I didn't get to go for a ride in it. What's going on?
May 26, 2014 - This is Memorial Day, a holiday, so Dad is home for the day. I like holidays, cause Dad stays home. But, Dad left right after lunch, so I didn't get to spend the whole day with him. When he came home, he had a new Jeep. He told me it's mine, and he bought it so we could go on a long trip together.
May 17, 2014 - Saturday, and Dad stayed home and worked in his office today, for about half the day. Mom was at a pet adoption thing, so Dad and Kiley and I were home alone. I like it when dad is home, cause he shares his lunch with us and gives us a little bit of dog food too. After lunch, Dad went into the back yard to read for awhile and smoke a cigar. I don't like the cigar, but I like to lay out in the sun while Dad is outside.
May 11, 2014 - Sunday, and I got to go for a ride with Dad to get the newspaper. it's been a real quiet week.
April 2014 - Dad was so busy all this month that he wouldn't take the time to type my blog for me. I can't type it myself, cause my paws are too clumsy to work that stupid little keyboard on the computer. And, by the time he finally gets around to do the typing, I've forgotten what happened. I don't have a very good long term memory, and that's why I try to write my blog every week.
March 30, 2014 - Sunday, and I got a real long walk with Dad and a ride in his car to go buy a Chai Tea for Mom at Starbucks. But I got in trouble again cause I snapped at Kiley and bit her ear. It was bleeding. Dad was real mad at me.
March 27, 2014 - Thursday, and I got in big trouble today. Mom took Kiley and I to the groomer to get a bath. They were stupid there and put us in crates, but had other dogs just running around loose. I got so excited that I got into a "frenzy" and bit another dog. Mom had to pay the Vet bill.
March 22 - 23, 2014 - Another good weekend, and I got to spend time with Dad on Saturday,but not much time on Sunday, cause Dad left again for the airport. Says he's going to Scottsdale to work Monday. I looked over his shoulder when he was working on the computer and saw where he's going. It's a desert and I remember being in Scottsdale with Dad last November. He stopped there to work for a few hours on our way back from our vacation in New Mexico. I associate the word Scottsdale with fun. Dad can't really expect me to believe he's working there, can he?
March 15 - 16, 2014 - A sad weekend, as Monday would have been Eddie's birthday. But Eddie's not here anymore. Dad left Sunday afternoon for the airport. He's working in Lake Tahoe and Reno all week.I wonder about these trips of his. He says he's working, but since it involves a place with a lake, it sounds like it could be fun rather than work.
March 9, 2014 - Sunday, and Dad took me for a real long walk and a ride to the store to make up for being gone all day yesterday.
March 8, 2014 - Saturday, but Dad's not home. He went to San Francisco yesterday and has to work there all day today. But, he called Mom and said he would be home late tonight. And it was late when he got home. 11:15 at night. But I was awake to say hello to him.
March 1, 2014 - Saturday, and a fun weekend cause Dad's home.
February 22, 2014 - Saturday, and it's Kiley's birthday today. She's three now, the same age as me. Dad bought some white cupcakes so Kiley and I could have some.
February 19, 2014 - Wednesday,and today is Dad's birthday. And we didn't really even get to celebrate much, cause Dad had to leave right after dinner. He's working out of town Thursday and Friday, so needed to drive to Las Vegas tonight. At least Kiley and I each got a little piece of cake.
February 15 - 16, 2014 - I love weekends, cause Dad stays home on weekends and I get to spend time with him. Dad always takes me for a longer walk on weekends cause he has more time, he doesn't have to go to the office early.
February 10, 2014 - Monday, and I'm back at the Vet with Mom to check out my tooth and make sure I'm OK. Mom said everyone at the Vet's office really liked me cause I was good today, and I put my feet up on the counter and looked over it to Wendy working behind the counter. She gave me a treat. Then she came around in front of the counter to give me a treat, so I high fived her. Mom taught me that. They all thought it was real funny, so I did it again when they gave me another treat.
February 8 - 9, 2014 - Dad took me for a ride both Saturday and Sunday. And a really long walk.
February 5, 2014 - It's Wednesday, and Mom took me for another ride to the Vet. And this time, they knocked me out with an anesthetic and pulled a tooth. Turns out I had a cracked tooth and that was what was causing me all those problems. I'm better now.
February 3, 2014 - It's Monday, and Dad's working out of town today, so Mom took me for a ride today. But it wasn't a fun ride. She took me to the Vet. They wanted to do a blood test on me.
February 1, 2014 - Dad took me for a ride today. It's only Saturday, and normally I only get to go for a ride on Sunday, so this was a special treat.
January 25, 2014 - Saturday morning, and Dad took me to the Vet today cause it looks like I've got some kind of infection in my eye or nostril. The Vet, and I got to see a new one, Dr. Martinez, said that it's not in my eye, and they can't see anything in my nostril. But, he said it's not unusual for dogs to inhale something cause we're always sniffing around. But, I definitely have an infection, so I have to go back for so they can do a deep look while I'm under anesthetic.
January 12, 2014 - Another weekend, nice and quiet. I got to go for a ride with Dad again Sunday morning.
January 5, 2014 - My first weekend in 2014, and nothing special happened.
January 1, 2014 - Yippee! It's my birthday today. I am now three years old. Dad can't believe I'm getting so old. he says that's true particularly because i still act like a puppy. So, it's my birthday, and what does Dad do? He abandons me and goes to visit his Aunt Betty. He says he needs to , cause it's her birth day too. I remember her now, I visited her on my birthday last year. I went to see her and Uncle Wendell at their house. Dad says the reason he can't take me this year is that Uncle Wendall died in March, and Aunt Betty had to move into a senior housing apartment where people could help take care of her. I did visit her there in November on my way back from vacation in New Mexico, but Dad says I don't really fit in, so I have to stay home. Aunt Betty is 87 today. Anyway, when dad got home we did celebrate my birthday, and Kiley and I each got a piece of cake. No cupcakes like last time. This time there was a whole birthday cake. OK, it was only about four inches square, and that had to feed all four of us. And it was a leftover Christmas cake decorated with M&Ms. Dad wouldn't even let me have an M&M. He pulled them all off so Kiley and I only got white cake with some icing.