My 2013 blog
December 28 and 29, 2013 - Dad is working at home in his office this weekend. But Mom is out Saturday for a pet adoption, and went to the office to do some work on Sunday. So Dad and Kiley and I ate the last of the prime rib, and Kiley and I got the bones. Those were really good. Dad says I will get some cake in a couple of days, cause new Years Day is my birthday. I will be three years old.
December 25, 2013 - Wednesday and Christmas day. Mom and Dad are both home in the middle of the week. We just goofed around the house all day. Except, Mom and Dad went out for dinner to Dawn's house. I didn't get to go.
December 9 through December 24, 2013 - Mom got mad at Dad, and said he didn't help her enough when she cooked the big Thanksgiving dinner, so HE had to cook the Christmas Eve dinner this year. Dad said that's OK, cause he likes to cook, he just usually doesn't have time. Dad planned a meal for twelve adults and five kids that included shrimp cocktail appetizer, salad with lots of Dad's famous fixings and home made croutons, prime rib, Yorkshire pudding, corn, and chocolate mousse for dessert. Dad said it was the first time he ever made Yorkshire pudding or chocolate mousse, but they both turned out OK. Mom kept saying nobody could help dad, but Monica helped him anyway.
Kiley and I had lots of fun playing with the kids. And two of the small kids got Christmas gifts of remote controlled cars that had bright lights and zipped around the floor real fast. Everybody laughed with me (at me?) cause I chased the cars around and barked at them. Dad has a family tradition where he bakes small Christmas tree cakes, and all the kids get to decorate their own cake. It's lots of fun for the kids. I tried to get involved, just cause I'm so nosy, but they wouldn't let me near the cakes. Justine is 20 now, but she still likes to make her little cake.
But the real treat was that Kiley and I got some prime rib scraps with our food. That's really good. Dad's son-in-law Tim likes his prime rib cooked rare, and said Dad got it exactly right.
December 8, 2013 - It's Sunday, and Mom came home today. I couldn't decide whether to show her how happy I was to see her, or to ignore her and punish her for leaving Kiley and me at the kennel.
December 3 through December 6, 2013 - This sucks big time. Dad left on the third to go to Florida, and Mom left on the fourth to go to Texas. And what did Kiley and I get? We got to go to the kennel. This has never happened before. Either Mom or Dad has always been home, or that one time last September when Kelsey came to our house to dog sit us. Mom was gone on a trip, and Dad had to go to Florida to take care of business before Mom got home from her trip. That was OK, cause we were at our own home and we already knew Kelsey. She's part of the family. But a kennel? That's so impersonal. Kiley and I were kept in separate enclosures. Each enclosure had a glass door so we could see out and see other dogs that were staying here. Mom tried to tell us it was just like a hotel and we should have fun. No way. I barked to show Mom how mad I was that she was leaving us here.
Saturday morning Dad picked us up early and took us home. Boy, was I glad to see Dad. I kissed him him. So did Kiley.
November 28 through December 1, 2013 - Wow, Dad didn't tell me it was Thanksgiving again. I like this. Dad's home for four whole days, and we have a bunch of company coming over this afternoon. I get to see Hannah. She's my favorite and the one who gave me my name. And Kelsey. I don't get to see her much anymore, cause she's away at college. Mom volunteered for a pet adoption Saturday, so Kiley and I were home alone with Dad. That's good, cause he gives us extra snacks at lunchtime. Mom doesn't do that. We got lots of leftover turkey. When Mom comes home from a pet adoption she smells like lots of other dogs that have been with her during the day. Kiley and I really sniff at her clothes. But, Mom says we can't be jealous, cause that's how Kiley and I both got found and got adopted. Mom's helping other dogs to find permanent homes.
November 24, 2013 - A whole week has gone by and I didn't get to do anything special. Dad takes me for a walk every morning, but that's it. I didn't get to go to the office or anything. Dad's been working real long hours at the office trying to catch up from being gone so much recently.
November 17, 2013 - It's Sunday and Dad took me for a walk and took me to get the newspaper. it's nice to get back to my old routine.
November 9, 2013 - Dad stopped to see his Aunt Betty on the way home. I remember her. I met her on my birthday, and it was her birthday too. Dad's cousin Anita was there too. We had a great visit, then it was time to make that last hour and a half home. I was so happy to be home. The first thing I did was say hello to Mom, then Kiley and I ran outside to play. We haven't played in eight days.
November 8, 2013 - Dad and I started the trip home today. He had to stop and work for about an hour in Scottsdale. We spent the night in Blythe, and it turns out I was on the car for more than twelve hours. Dad says i was good cause i was quiet the whole time. But, when we got to the hotel, I was so wound up from being cooped up in the car all day that I made him take for a run for about 45 minutes.
November 7, 2013 - Today is Thursday, our last full day at the timeshare, so we just kind of hung out and didn't do much today. AT one point there were some deer in the grass out in front of the condo. Uncle Wayne took a picture of me standing on the sofa checking out the deer, cause he said I was funny. Then we went to the Billy the Kid museum. Dad says he was an outlaw about a hundred and thirty years ago. I'm not sure how long ago that was, but dad said about a thousand dog years. That's Dad with me in the Billy the Kid picture.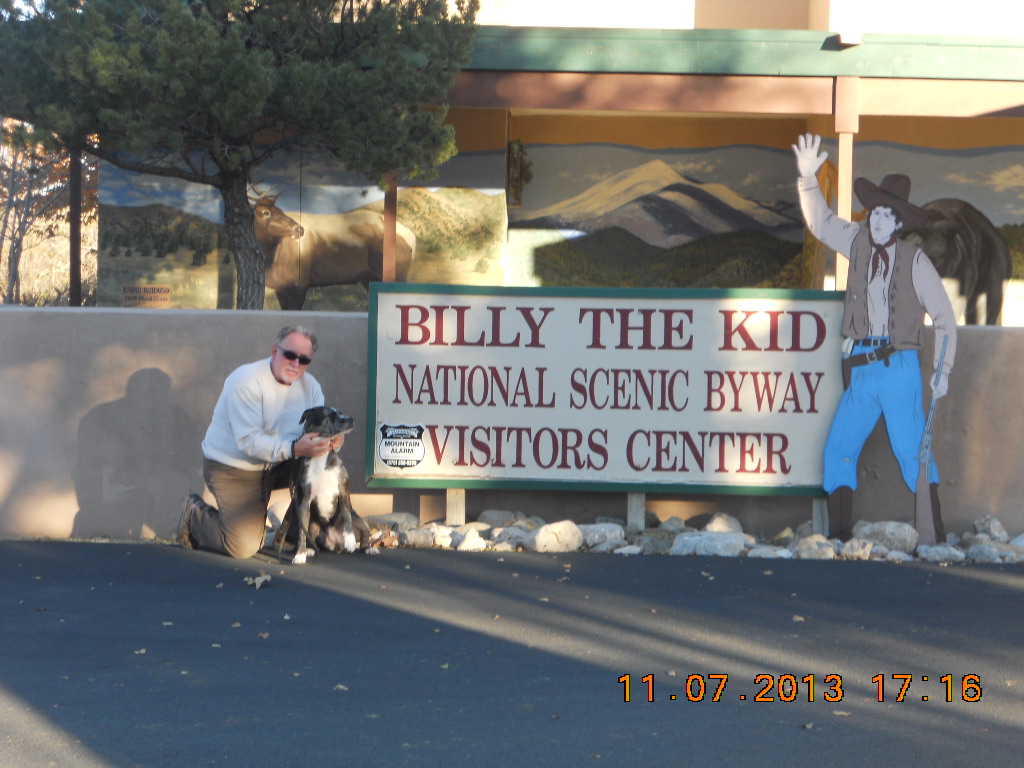 November 6, 2013 - We have to start our trip home on Friday, so Dad said we needed to go out again to see some more sights before the vacation is over. It's only Wednesday, but we had a fill day today and went to the White Sands Missile base and National Park. It was fun. Look at the pictures below. There's the Visitor Center, and me looking over the fence checking things out. And the sand dunes really are white.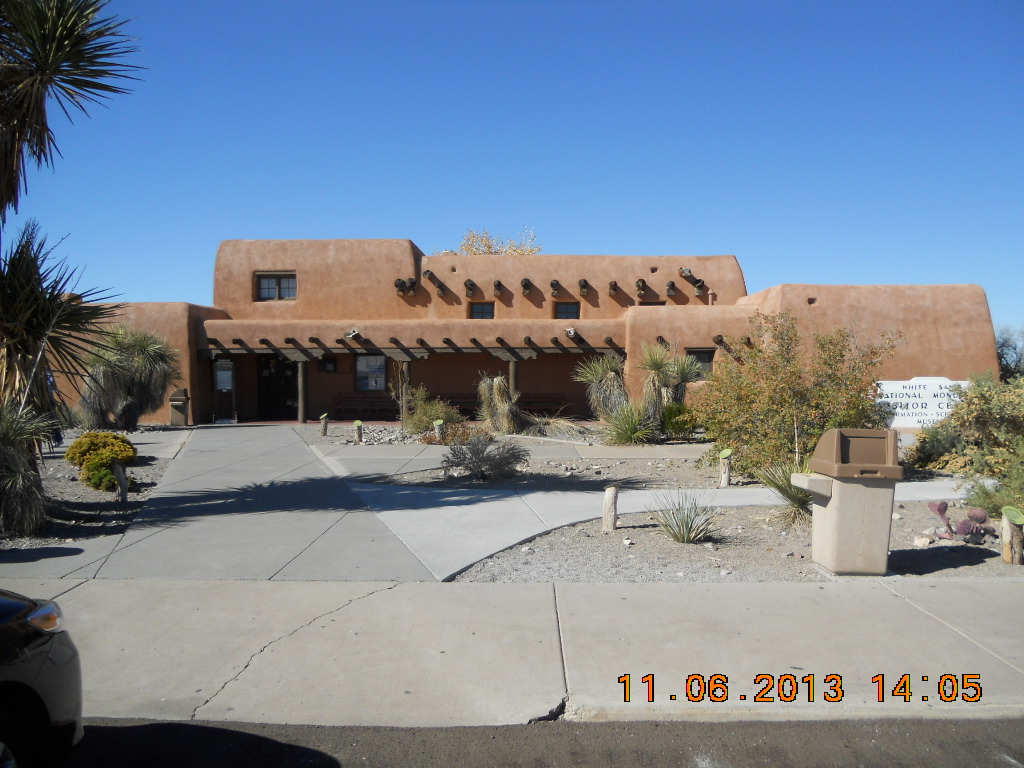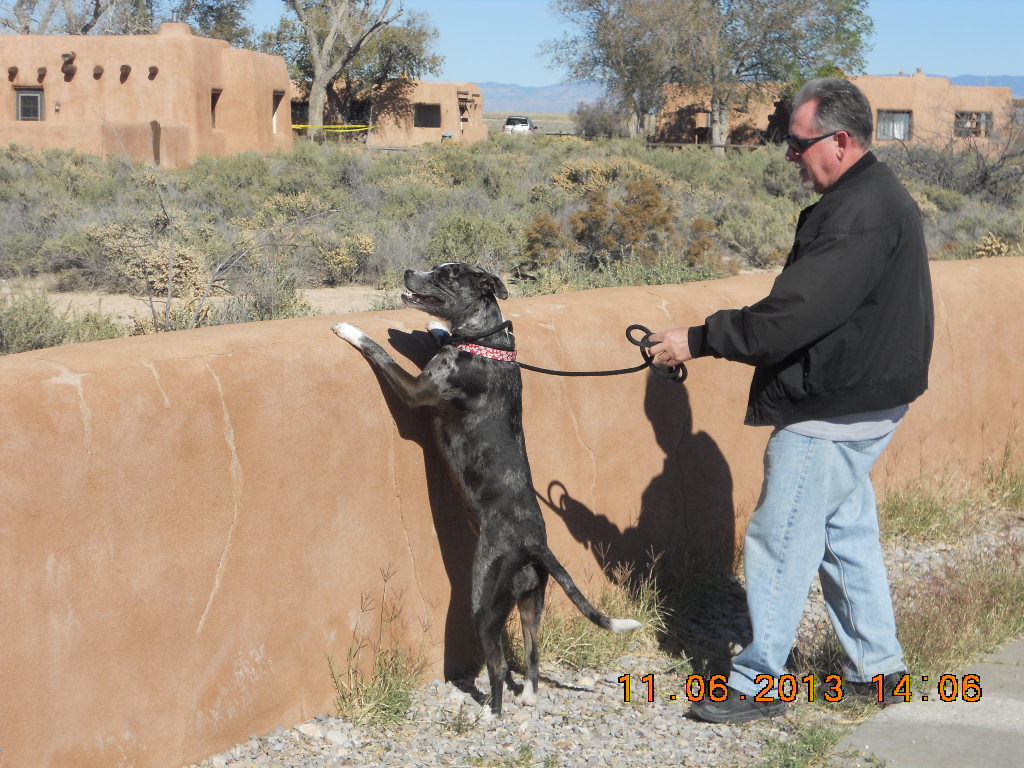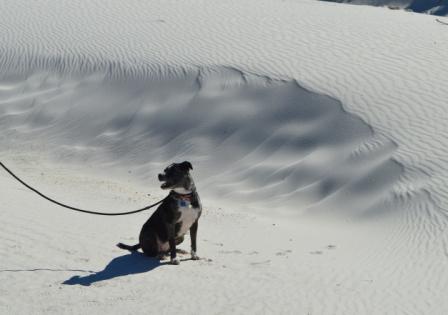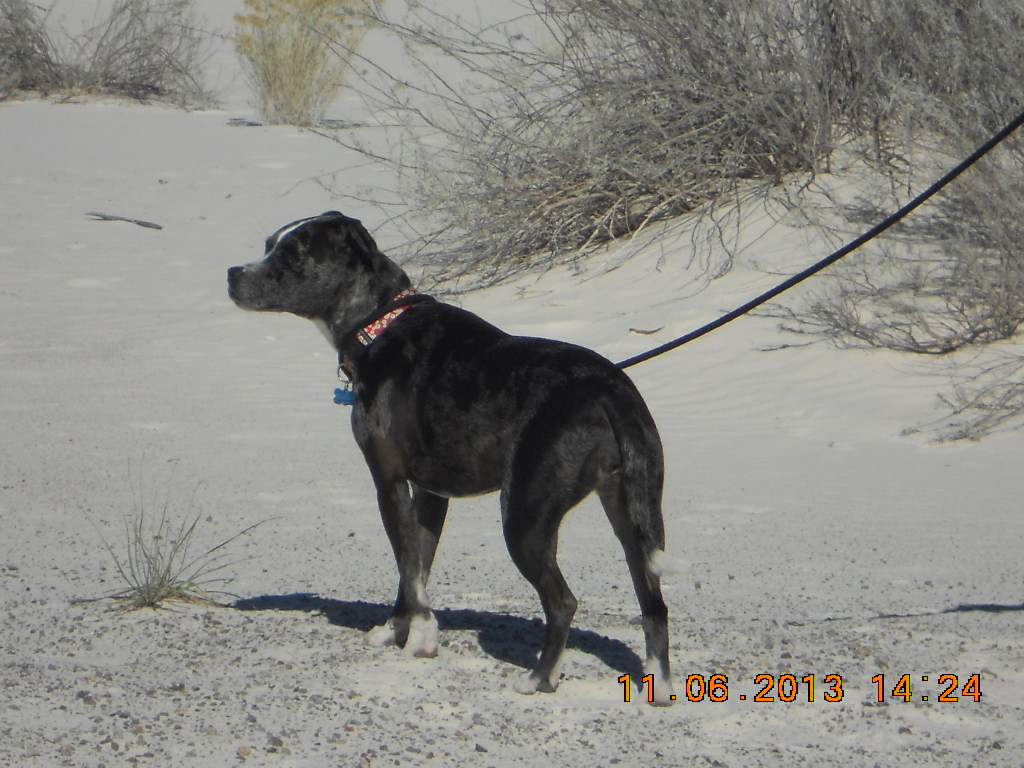 And, after we went there, we went to the missile museum on base. Uncle Wayne was wearing his Disabled Veteran hat, so they didn't pay too much attention to us when we went through the front gate. But, they did ask if I was a pit bull. What's wrong with them? Don't they know a Catahoula when they see one? Actually, they said they never even heard of a Catahoula before. But, the museum is open to the public, so they let us in. Here are some pictures. There were a lot more, and Uncle Wayne took a picture of me with a "shell casing" of some funny kind of nuclear bomb with a funny name. It was called "Fat Man." I though that meant Dad. Dad was P***ed when I said that.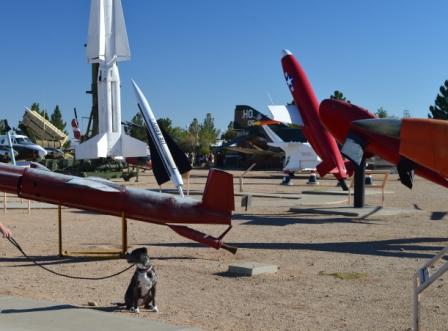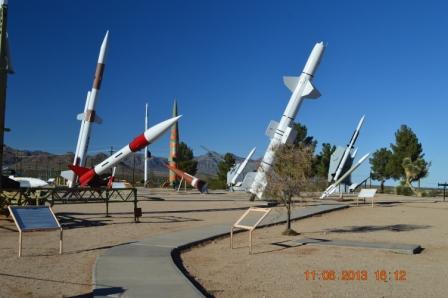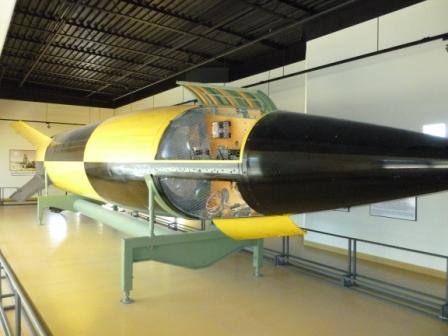 And, last, on the way home to the timeshare, we went through a place called Cloudcroft. This place is even higher in the mountains than Ruidoso. Uncle Wayne says we're about 8,700 feet up. Dad says it's like an old western town. But, he says lots of New Mexico is like a western town. And check this out, I got to go through a tunnel on the way to Cloudcroft. I've never been in one of those before.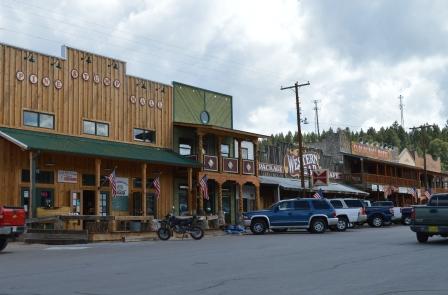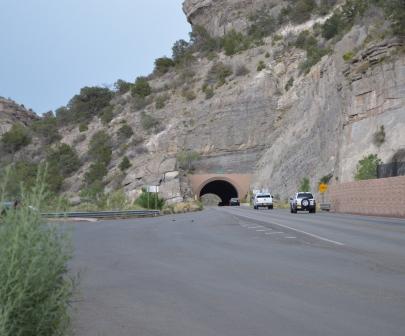 November 5, 2013 - It's Tuesday, and Dad decided we needed to get moving, so today we went to a place called Roswell. Dad says it's famous cause some aliens landed there in 1947. Uncle Wayne took a couple of pictures so I would be able to remember my visit. But, the first picture is me with Uncle Wayne at the visitor center. And they have a whole UFO theater - I learned that means Unidentified Furry Objects. That what Dad says I am. And then I got to see these aliens. These are made of metal, but some guy siad they look just like the real thing.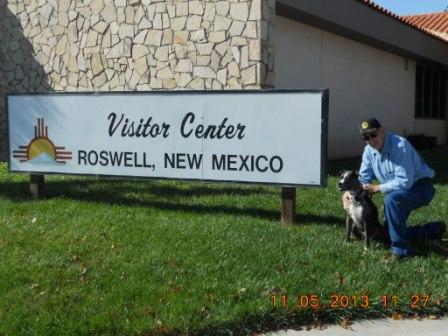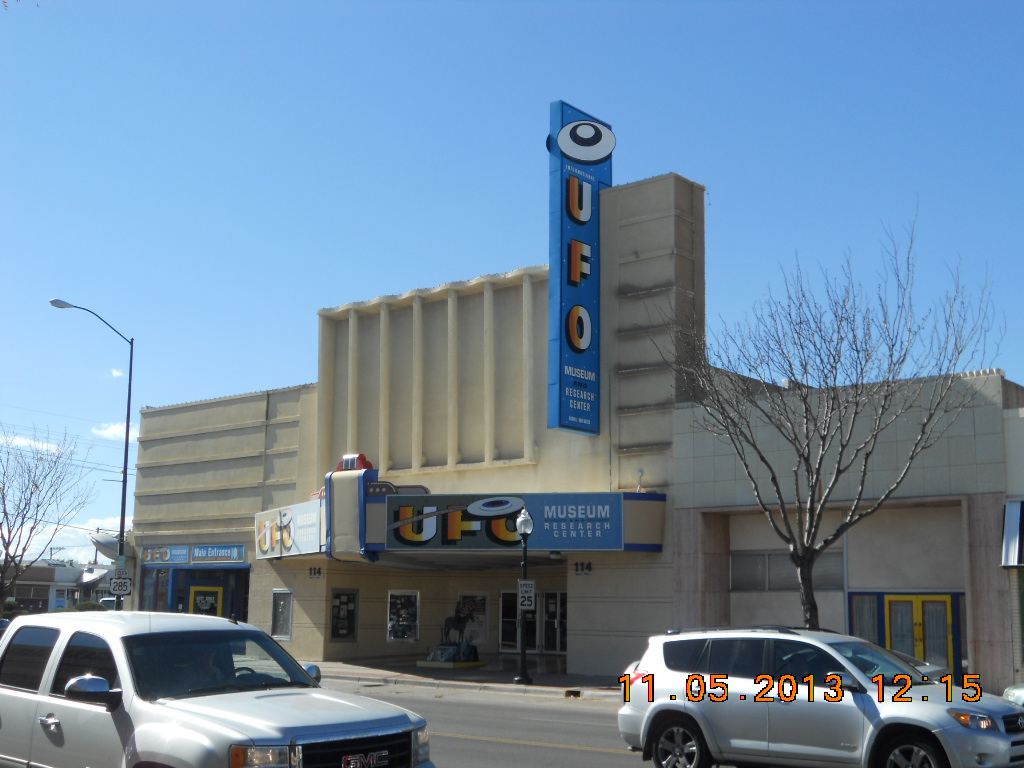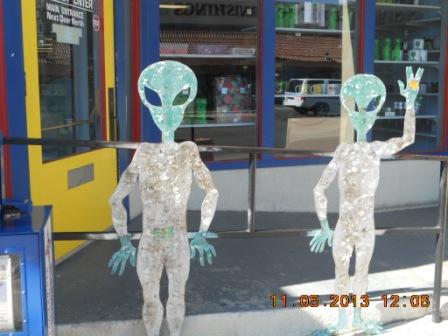 We had lunch in Roswell, and I got part of a McDonalds hamburger. These are good. Mom never gives me anything like this. Going around with Dad is an adventure cause I get to try lots of new things. We drove through another town on the way back to the timeshare. I don't remember the name of it, but their high school sports teams are called the "bulldogs." I know what a bull dog is. Anyway, there was a big bronze statue of a bulldog at the high school, which was right beside the street we were driving on. It was about five feet high. When I saw that, I started barking like crazy. I had never seen such a big dog. dad told me to shut up. Uncle Wayne laughed at me for barking at a statue. How was I to know. It looked like a real dog. A big one.
November 4, 2013 - Dad had to do some work today, even though it was vacation. But, that was only for a couple of hours, then we went for walks both before and after. In fact, I got to go for five walks today. I've never gone on so many walks in a single day on my life. It was fun. We just hung around the timeshare today and relaxed. Here is a picture Uncle Wayne took that showed one of our long walks, and another one of me checking out a horse we saw along the way. I don't think I had ever seen a horse before. If I did, I don't remember it, so i was real curious. He was so big I didn't even bark at him.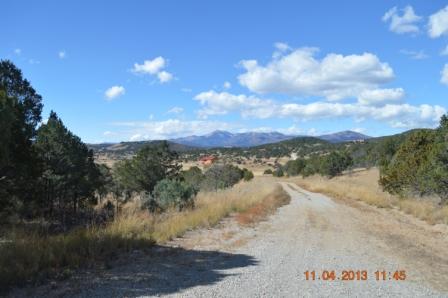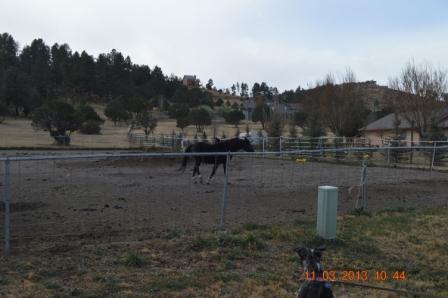 November 3, 2013 - Dad cooked a big breakfast this morning, so I got my normal dog food with some bacon grease mixed in with it (Mom doesn't do that for me). That makes it taste real good. He took me for a long walk before breakfast. Then, after breakfast, Uncle Wayne joined us and we took another walk. At noon, I made a big fuss, so Dad took me on another real long walk along Little Hills Road. This was probably the longest walk I've been on in my life, and it's my third walk today. I really like this vacation thing. It's fun. We just goofed off today and stayed around the timeshare condo. This place is real cool, but it's also real high in the mountains, about 7,500 feet. I run out of breath real fast.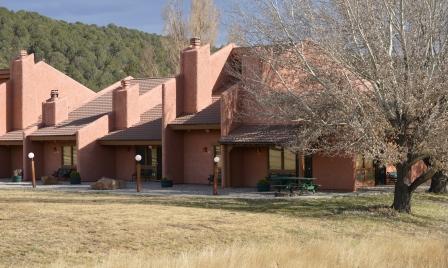 November 2, 2013 - Dad shared some of his breakfast with me this morning. So I got a little bit of bacon, some scrambled eggs, and biscuits and gravy. I really liked the gravy. When we checked out of the hotel, Dad took me down to the front desk to turn in the keys. I do what I always do - I jumped up and put my front paws on the desk and stuck my nose out to see what's there. I don't like to miss anything. There was a cute young lady there, and she said hello to me and petted me and told Dad I was a pretty girl.
Then, it's back into the Jeep to continue the ride on this vacation thing. Today we're headed for a place called Las Cruces, New Mexico. Yippee! I got to visit another state. That makes three states I've been to in just three days. We got to Las Cruces (late) cause Dad messed up on the time. He forgot about the time zone change. We're now on mountain time. And I just got to meet my Uncle Wayne. I never even knew that I had an uncle. He's nice, and I can tell he has two dogs of his own, but they're not with him today.
Then we followed Uncle Wayne up in the mountains to a place called Ruidoso. We're staying in a timeshare resort up in the mountains. It's nice here, and I got to meet another dog, and I got to chase some deer, and Dad took me on a long walk up the road. Below is a picture of me relaxing in front of the fireplace at the timeshare. Dad made sure to bring my little blue sleeping pad so I would have something familiar to sleep on. Life is great. And here's a picture of Uncle Wayne's new truck. He won't let me ride in it, but it sure looks cool.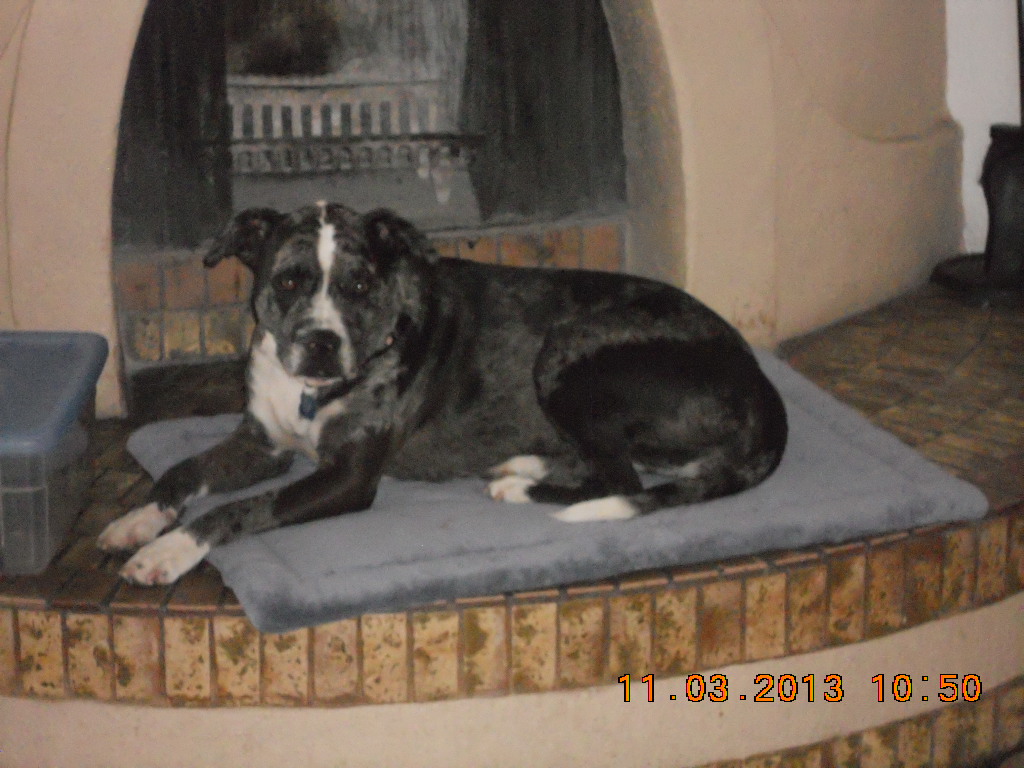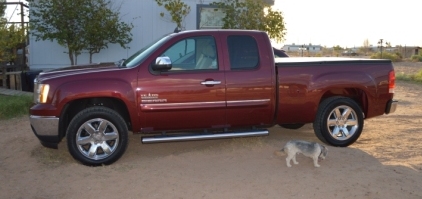 November 1, 2013 - Now this is real strange. It's Friday, but Dad is taking me for a ride. And it turned out to be a REAL long ride. We ended up spending the night at a hotel in Tucson, Arizona. Yippee! I got to finally visit another state. Dad says this is a vacation, whatever that means. All I know is I got to spend the whole day with Dad. He stopped at several rest stops on the way to Tucson so I could get out and stretch my legs and take care of business. And, don't tell Mom, but Dad had a hamburger for lunch and he let me have part of it. Mom doesn't give me treats like that. And for dinner, Dad went to Chick Fila, so I got some fried chicken along with my regular dinner.
October 27, 2013 - Today is Sunday, and this is the day I normally get to go for a ride to get the paper. I didn't get to go today. Dad promises me he'll make up for it later this week. I wonder what he means.
October 26, 2013 - Dad says he's not going to be around next weekend, so he has to go to the office to work today. I got to go with him, so it started out like a real fun day. Mom stopped by the office after lunch and picked me up and took me home.
October 19, 2013 - OK, things are getting back to normal. This is good. Dad was home today on Saturday. All day. He played with me and Kiley. Mom was gone most of the day helping out with dog adoptions at Pet Smart. I don't like it when Mom's gone, but since that's how Kiley and I both got found, I guess I have to say it's OK.
Mom put both Kiley and I on a diet. She says we're getting too fat. So, we don't get lunch anymore, just breakfast and dinner. But, Dad gets lunch. And, since it's Dad, that means Kiley and I will get some food too. Dad can't stand to see us looking at him while he eats and us not getting to eat. Dad's a pushover. Mom is tough.
October 16, 2013 - I normally don't get to go into the office with Dad during the week, but today is Wednesday and I got to spend the whole afternoon in the office with Dad. Mom was gone for a meeting most of the day, and Dad didn't want me to be locked up in the dog run area, so he came home for lunch and rescued me.
October 13, 2013 - This is Sunday, and my day to take a ride with Dad. But, I didn't get to today, cause Kiley was sick and Dad had to take her to the veterinary hospital. They left right after breakfast and were gone for three hours. Kiley had an ear infection, so she got some medicine to fix it.
October 6, 2013 - Dad actually went to the office to work today, and I didn't get to go with him. Dad doesn't work in the office on too many weekends, but, lots of those times he takes me with him. he said he really needed to work today and couldn't have me there with him cause I distract him. Dad says I am "high maintenance," whatever that means.
September 21, 2013 - It's Saturday, and Dad went in to the office to work today for a couple of hours. He said what he had to do today he couldn't do at home, and didn't want to work on it Monday. And I got to go with him. I like it when I get to go to the office with Dad. But, mostly, I'm supposed to just lay around and sleep. I got in trouble today cause when Dad was in the other room and not paying attention, I sneaked into the trash can in the kitchen area and pulled out somebody's leftover lunch trash from Friday. Dad normally makes sure trash is gone on Friday night, but since he knew he was coming in Saturday, he decided to wait until Saturday for taking out the trash. But I got to it before he did. I ripped up the paper to get at part of a sandwich, and managed to leave scraps of paper all over Dad's office. Dad laughed, and picked it up, then got the vacuum cleaner to get the little bits of paper. And, of course, I went after the vacuum cleaner. I don't like that thing. Dad still gave me some lunch at the office, and we went home early in the afternoon.
September 18, 2013 - I saw a deer today on my walk with Dad. I don't see them too often. Dad says it was a dry winter and there's no much water in the mountains, so the deer are coming down to get water. Dad wouldn't let me chase them. I also got to go to the office to visit Dad for about an hour this afternoon. Mom had a meeting, so she dropped me off at the office, then dad brought me home. I like it when I get to visit the office.
September 15, 2013 - Dad worked in the office yesterday, so I didn't get to see him as much as I normally do on a weekend. It must be pretty busy at work, cause Dad took me to the office today, on a Sunday. He said this is only the second time this year he has had to go into the office to work on a weekend. I don't care, I got to go with him.
September 2, 2013 - Today is Labor Day. I like these holidays, cause Dad stays home for three whole days in a row. I get to bug him and play with him. Dad took me for a ride Sunday morning like he always does. But, he also took me on a ride Monday into the office so he could reboot the server. I don't know what that means, and I don't care. it just means I got to go for a ride with Dad.
August 14, 2013 - Eddie came home today, but he was in a wooden box. Mom put him on the shelf alongside Sammie and Clover. I don't understand what "cremated" means, but that's how Mom said Eddie got into the little wooden box.
August 5, 2013 - I normally don't write on Monday, but had to today. My brother Eddie died today. He went to the Vet and didn't come home. Mom and Dad are real upset
July 4, 2013 - Dad is home for four days in a row. Wow. Great. I love these holiday things that you humans celebrate.
June 26, 2013 - Dad just got home from a trip to the east coast. He was excited because he finally got to visit Rhode island, which means he's been to all 50 states. So what does he do for me? I've never been outside of California. Dad promised he's going to take me on a trip in a few months and I'll go into three other states.
May 26, 2013 - I just found out – it's Memorial Day weekend. That means dad is home for three whole days. This great! I already got to go for an extra ride on Saturday. But, I got in trouble yesterday cause I got in the mud when Dad watered his garden yesterday. I'm not supposed to do that.
May 22, 2013 - Today was my day to go to work with Dad. I got to stay in the office with him for five hours. It didn't seem like too long for me. But, Dad said it was a real long five hours.
May 18, 2013 - Today's walk was great. I got to see a deer today on my walk. This is only the second time I have seen a deer on my walk.
May 12, 2013 - Mother's Day, and I got Mom a card. We celebrated with cupcakes again.
April 27, 2013 - Saturday night late, and Dad just got home. He left yesterday and went to a place called Colorado for some seminar. He said he had a real bad two days of travel, but a really good seminar. I don't care about that, I'm just happy he's home - so he can take me for a walk.
April 24, 2013 - Wednesday, and I got to go to the office again today. AND, I found another picture of me that got published and sent out to thousands of people - I'm famous, again. Mom found the picture cause she helps out with the Ventura Pooch Parade every year. It's in June. C.A.R.L, the sponsoring organization, sends out an application form for people that want to bring their dogs to the Pooch Parade. It's the biggest dog event in the county. The application contains photos taken at the prior year's Pooch Parade. You guessed it, someone snapped a candid photo of me and it was selected to be on the application, along with a few others. Dad says this is one of my standard poses. I jump up with my front feet and put them on the table so I can see what's going on.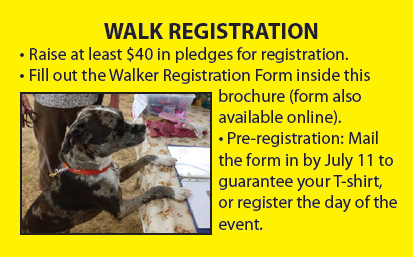 April 21, 2013 - Sunday afternoon, and Dad just got home. He was at some conference for the last few days, and I missed him. I showed him how happy I was to see him by jumping on him to say hello. I'm not supposed to do that, but couldn't help myself.
April 14, 2013 - Sunday, but Dad was home all week, so I got to go for a walk every day. Dad's still working real hard, so I don't see him much. He leaves at about 7:30 in the morning and doesn't get home until 8:00 at night, and then works another couple of hours after dinner in his office. He says it will be better in a couple of weeks, that he can slow down a bit. Today Dad took me to the office so I could spend more time with him. But he just sat at his desk and did something called taxes. He wasn't happy.
April 10, 2013 - Dad takes me for a walk every single day that he's at home, and today was no exception. But, real exciting, I got to see some deer today. There was one right in the middle of the street, and another one that had just crossed into the field behind our house. The one in the street got scared and ran away - the wrong way. But, I got to go to the office today.
April 7, 2013 - Sunday, and another week bites the dust (I learned that expression from Dad). Again, didn't get to say much during the week, cause Dad was gone again, working in Reno, Nevada last week. He didn't get home until 11:00 Friday night. But he took me for a long walk both Saturday and Sunday to make up for it, and took me for a ride this morning.
March 31, 2013 - Sunday again. I don't write much during the week cause Dad is so busy he won't type stuff in for me. Dad was working up in Lake Tahoe this week, so was gone most of the week. But I make up for not seeing him when he gets home.
March 24, 2013 - Sunday. We had a quiet weekend at home. Dad worked all weekend in his office, except for when he took us all for a walk. There was a dead rabbit in the road. Dad said he just wasn't fast enough. I wanted to go investigate, but Dad wouldn't let me. On the way back in our walk, we went by the rabbit again. But now there was a buzzard there. I wanted the buzzard. Dad wouldn't let me get the buzzard, and he was real close. I coulda got him; I'm fast.
March 17, 2013 - Sunday, a quiet day at home. I'm mad at Mom. She had the gardener plant some newplants on the hill where Kiley and I like to play, and then had him put in a temporary fence so we can't get onto that portion of the hill. My back yard just got cut in half; we don't have as much room to run around. But, today is Eddie's birthday, so we got to celebrate again. We think Eddie's sixteen, but he could be older. He couldn't be any younger, cause he's lived with Mom and Dad for thirteen years today, and he wasn't a pup when he was adopted. It's sad though, he's getting so frail it's hard for him to get around.
So, Dad let us have (little white) birthday cupcakes again. He put them up on the kitchen counter so Mom could take a picture of them. Mom moved one a little closer to the edge of the counter. I couldn't reach it with my mouth, so I reached up with my right paw and grabbed the cupcake and pulled it towards me so I could eat it. Mom laughed, but I still got the cupcake.
March 13, 2013 - Wednesday, and I got to go to Dad's office again today. There was somebody new there, a man named Matt. He petted me and said hello, and I bothered him like I do everybody else in the office before I went into Dad's office to take a nap. There were donuts in the office today, and I got a couple of little pieces. I like donuts. I rolled around on the floor and scratched my back, and made some noise in the process. Matt said I'm just like Dad. I don't understand humans. I can't tell if that's a good thing or a bad thing.
March 9, 2013 - Saturday, and I had to stay home alone most of the day. Mom and Dad went to Uncle Wendell's funeral today.
March 2, 2013 - Saturday, and Dad got some real bad news tonight. His Uncle WendeIl died today. He was 86; going to be 87 next month. I'm sad too. I met Uncle Wendell just two months ago on my birthday, when Dad took me down to see Aunt Betty for her birthday - same day as mine. I got to sit in the car with Uncle, and played in their house. Uncle Wendell said when we left "I like that dog." He had real good taste.
February 27, 2013 - It's Wednesday again, and I got to go to work with Dad.
February 23, 2013 - Saturday, and I got a real long walk with Dad today. I told him what Mom told me about Las Vegas. Dad says he really does work there; it's not fun when he goes there. He promised to take me sometime and said we could go to Red Rock Canyon. That's someplace he's always wanted to go.
February 22, 2013 - Friday night, 11:00 PM, and I woke up so excited cause Dad came home. He was working out of town all week, and I haven't seen him since Monday. He said he was working in Las Vegas. I asked Mom about Las Vegas. It doesn't sound like a place where you really work. Sounds more like a human adult play place.
February 17, 2013 - Sunday, and we celebrated Dad's birthday today, a couple of days early, cause he's going to be gone for his birthday.
February 13, 2013 - Wednesday, and I got to go to the office with Dad today. I like that, cause I get to see all the people in the office and they all pet me. When I settled down, I slept most of the morning in Dad's office.
February 10, 2013 - Really good long walk with Dad today. When I tried to make a fuss when I saw some other dogs out on the street, Dad made me sit down until I settled down. He made me do that three separate times. I think I'm getting the idea; I shouldn't make a fuss every time I see another dog.
February 9, 2013 - Quiet week this week. Didn't get into any (bad) trouble. Maybe that means I should really count this as a good week.
February 3, 2013 - Superbowl Sunday, and the 49er's, one of Dad's favorite teams, is playing today against a bunch of birds. I know what Ravens are. But, the Ravens won. Too bad Dad. He said it's OK; he hasn't really paid that much attention to football since the Rams left Los Angeles. Dad said the second half of the game was really good, so it was enjoyable anyway.
January 20, 2013 - Another Wednesday that I get to go to the office with Dad for half the day. I like it cause I get to visit with all the people in the office. They like it cause I entertain them by acting silly.
January 20, 2013 - Sunday again. Today was a so-so week. I got in trouble for growling when Eddie came too close to my food. I had good walks, and a great ride today with Dad.
January 13, 2013 - Sunday, so I got to go for a ride today.
January 10, 2013 - It's Wednesday, and I got to go to the office with Dad today. I ran in and said hello to everybody and made a fuss, so Dad locked me in his office with him. He said I was good today because I laid down and slept most of the time.
January 6, 2013 - It's the first weekend of the new year. I thought something special would happen. But no, it's just the same old thing. Go for a walk every morning, and a longer walk on weekends. And I get to go for a ride to pick up the paper on Sunday morning. I've still got Dad fooled. He wonders how I know when it's Sunday. He doesn't understand that I've got an internal calendar and I always know what day it is.
January 1, 2013 - It's New Years day, and it's my birthday. I am two years old today. Dad got me my own birthday cake - a white cupcake, just like last year. It's also Dad's aunt's birthday, and he wanted to visit, so he took me with him so the two birthday girls could celebrate our birthdays together. Dad took me and Uncle Wendell out to buy lunch for us to take home to eat. Aunt Betty can't get around too well, these days, so she stayed home. Uncle sat in the front seat, my seat, so I had to sit in the back. But I put my front feet on the center console and rested my head on Uncle's shoulder so I could see what was going on. When Dad went into the restaurant to pick up the food, I got in his seat, the driver's seat, and watched his every move through the window. I didn't move until he got back to the car. Uncle thought that was real funny.
Cousin Phil came over with part of his family, so I got to meet even more people. I had lots of fun, and they all liked me and said I was cute. Dad said that's only cause they didn't know me yet.
| | | |
| --- | --- | --- |
| | | |
| My birthday cake | | |